What You Need to Know about
Travel Routes, Destinations, Duration and Time of Year
Click on the interactive map on your chosen route to find out more information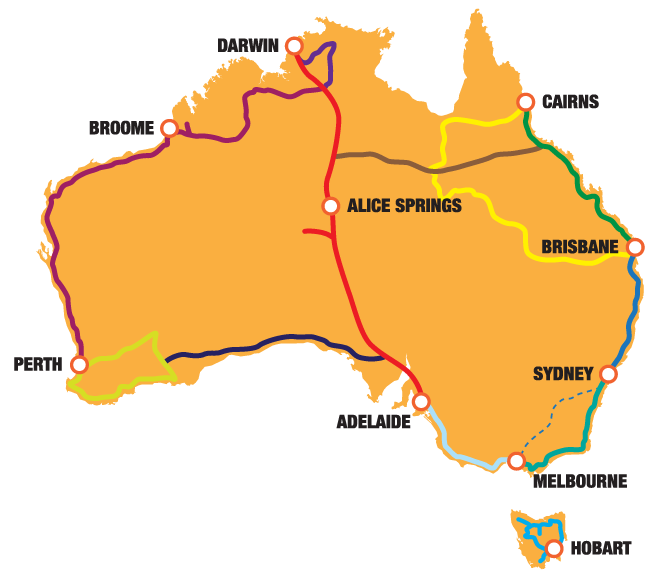 Click on the route you're most interested in and you'll find loads of tips whether you are in the early stages of planning, or have already booked your camper with us and are in the final stages of planning. Travelling at the right time of the year for the best climate and holiday experience is vital when you are travelling to any areas in the top half of Australia, like Cairns to Darwin, Perth to Darwin or exploring the Top end around Darwin – these are best experienced in our winter, as you'll see below. Considering a tour of Tasmania – you'll want to visit here in Summer.
Click on a travel route below to find out more information
Looking at travelling from Perth to Darwin or interested in other Oz tours?
Driving around Australia in a campervan or motorhome can be easy on most routes and is heaps of fun. There are many things to consider when travelling around Australia though, such as:
The distances you can travel as the country is so vast:
In some areas are there are large distances between the destinations so it is important to allow enough time for travelling. However you shouldn't let this put you off – the driving is easy and you will see a number of other travellers just like you on the main highways around Australia, even in remote areas
It is important when driving, like from Broome to Perth for example, that you do take adequate breaks – at least every two hours.
If you are a first timer and worried about the longer driving distances in Australia, you may prefer to travel the south western corner of WA as one of your first trips, or tour Tasmania. The distances between the destinations are not large with loads of fabulous scenery to enjoy
If you're worried about fuel in remote areas – if you're travelling on the sealed roads, there is no need to be. We have roadhouses that sell fuel and basic traveler suppliers for you to full up. It is important though, if you see a sign that says no fuel for 200km it means that and you should full up – in fact in remote areas, a good idea to full up even if you still have half a tank, as always better to travel on the top half of the tank than the bottom half!
If you're travelling in a 4WD camper in remote areas, more planning will be required for fuel needs.
Weather conditions and what time of year is best to go and do the things you want to do:
the above table is very useful to help you firstly understand the best time of the year to enjoy Australia and allow enough time to see it. It is a big country, so one specific time of the year is not best for the entire country – it is best to consider the area you'd like to explore and plan you holiday around this time
other things you may like to consider when planning your holiday may be to coincide with the best chance of seeing local wildlife. For example if you are planning a road trip across the Nullarbor, you have the best chance of seeing Southern Right Whales playing at the bottom of the Bunda Cliffs May to September. The Whale Sharks off the Western Australian coastline at the Ningaloo Reef are most likely to be seen March to July
Parts of Australia are also renowned for their wildflower showing – most notably Western Australia. These can start in the far north in June, down to November in the bottom south western corner. Travelling from Broome down to Perth, there is a good chance of seeing these in bloom July – September. Travelling south of Perth to Albany and Esperance, you'd usually see a good showing mid-September to November
What type of vehicle should you hire?
Your first question should be where you are planning to explore. If you are travelling on unsealed roads or 4WD tracks like the Gibb River Road in the Kimberleys for example, then you'll be looking at a 4WD hire. The 2WD campers need to stay on sealed roads with the exception of some campground entrances
Many of our clients travel on the sealed roads on the iconic trips like Darwin to Perth or Adelaide to Darwin and would consider adding in the odd 4WD day trip or flight into the more remote areas. This gives the comfort and convenience of travelling in a motorhome with an on board toilet and shower
What type of experience do you want to have?
For some of our clients they have a bucket list goal of driving a particular route and for others, it is seeing or doing something, like swimming with the Whale Sharks for example. Ensure you take the time to check the best time of year to encounter the wildlife or experience to avoid disappointment
Where could you go?
There are so many fabulous areas to explore in Australia, we'd suggest you pick a chunk of Australia or a popular touring route; have a good look at this, and then next time, and we're sure there will be a next time, do another section
If you're only available at a certain time of the year, then it is best to visit the area that suits travel at that time
If you're not sure, why don't you have a look at our escorted motorhome tours for some inspiration
We also have a range of short online videos that shows you the typical scenery on the popular touring routes in Australia
Make sure you grab our free DVD – this will answer loads of questions you don't even know you have yet, plus give you lots of inspiration with where you may like to go. We'll pop it in the post today if you request it
How long do you need?
We've shown the suggested minimum time frames based on our experiences and that of our clients. Consider how you usually like to travel – are you someone that likes to keep moving, or do you prefer to spend 2 – 3 nights in the same place. This will affect the best length of time for your holiday. For each specific travel route, we've shown the minimum time frame, plus let you know what some of our retired clients prefer in terms of time frame
You can always ask us – we can have a chat with you about what you're planning – usually it is easy for us to give a suggestion for the time you might like to plan to be away
How much can you do on your budget?
This is a good question – we have a range of vehicles to meet your needs and budget to ensure this type of holiday is accessible to many
It is great to know, that if you are travelling in a 2WD camper and available to head away in May/June, you will find this quite a bit cheaper usually than travelling at other times of the year
When planning your holiday, let us know if you are flexible with your travel dates – sometimes even by moving just a few days, we can help you save money, meaning your holiday savings will go further
From years of experience of travelling around Australia, whether you are looking for Western Australia tours or 4WD hire in Perth, looking at tours in Tasmania or want to travel from Broome to Perth, we have selected some of the best tours of Australia for you.
Watch this video of highlights for the most popular travel routes